If you wish to have several overviews of different screen configurations
Click the "Create a new bulletin board" button.
To rename it click on the small pencil next to the name (New TV by default).
Then click on the "Edit" button and you can configure the screen as you wish as well as have a preview.
To have a different display for a specific screen
First create a new bulletin board as above.
Then contact the support with the small chat bubble at the bottom right to ask them to link to the desired screen.
And there you are, you now have several bulletin boards!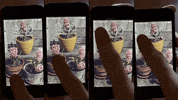 Updated on: 03 / 08 / 2021